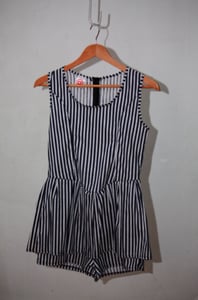 $

28.50
Sail away on an exciting voyage in this white and navy nautical striped romper with a zippered back, skirt overlay and shorts peeking out underneath. Ship Ahoy!
Measurements (laid flat):
Shoulder-to-hem: 28 inches
Bust: 16 inches
Waist: 15 inches
All items are priced in Singapore Dollars.
Shipping within Singapore: $2.35 (first item), $0.70 (additional items)
Contact us to inquire about international shipping rates.